God Damn it! Looks like we survived another one. One more year of one too many, casual sex, and ringing ears. One more year of "Who's spinning?", "What's on tap?", "Why are we here?",and "Where's my phone!?!" One more SXSW , one more FUN FUN FUN one more year of finagling your way in.Thanks to every "link" that made it all possible!
2010 saw the loss of a good party and a friendly watering hole. Somebody pour out a $2 dollar Lone Star (oh yeah those are gone too) for Creekside! It also saw some great parties like Peligrosa at Deville and the Versus joints at Scoot Inn reach a fever pitch.
All though not as choice as 2009 we saw some decent shows fall through the city capped off by WU-TANG at Emo's. (If I'm not mistaken I believe someone wrote a post about that show.) Oh yeah and it saw the birth of the FeedBak.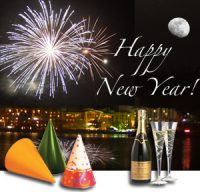 2011 is already shaping up to be the year of the eastside bar, at least as far as I'm concerned. I'm guessing being with in walking distance of an establishment is generally a good indicator of your potential frequency. This fact is there are some really nice spaces down east Sixth if you have been yet. We eased out 2010 and eased in 2011 at the Liberty Bar (a great place to drink with a laid back staff, and bagin Thai food out back). I'm also hoping to see good things out of a spot called Gypsy's. Nice tap, big patio section with outdoor lounge furniture, and it already smells like women. Come smell for yourself!
Stay safe this year, especially behind the wheel. If you're going that hard maybe you should do like me and move down town.
A lot of people didn't make it out of 2010, and more won't see 2012! Protect yourself party people!! 2011 wouldn't be the same without you.
Let's burn this motherfucker down!!!
Written for your scrutiny.
P.S. Coumba quit her job!! Big sissy's home!! Watch out 2011!![/fusion_builder_column][/fusion_builder_row][/fusion_builder_container]