Remember the 90's? Baggy jeans, The Fresh Prince of Bel-Air, Michael Jordan's 6 NBA titles, Yo MTV Raps, Pogs, The Lion King, Super NES, grunge music, high-top fades, The Spice Girls, MC Hammer, denim overalls, Pulp Fiction and the list goes on and on…
In hip hop and R&B, we had A Tribe Called Quest, Aaliyah, Wu-Tang Clan, TLC, Snoop Dogg, The Geto Boyz, Boyz II Men, The Fugees, Beastie Boys, Tony! Toni! Tone!, 2Pac, SWV and many many more…
To celebrate such a memorable decade, Austin's own Poise & 20/20 are proud to present:
Golden Era Tribute to Biggie Smalls
On Thursday, March 10th at District 301 (6th/Lavaca Street)
Bring back all those cherished memories as we pay homage to one of the greatest. Here's the deal:
As always The FeedBak will be there to capture all the action with pictures and interviews.
Be sure to submit your song requests at www.thefeedbak.com/rsvp and be there to jam to them like you used to!
Let's see how much of a 90's kid you are!
Come early and reminisce with us!
Doors open at 9pm
Special thanks to Rebecca Powe, Keep It Local, Sir Rod Ent, and G&G Graphic Designs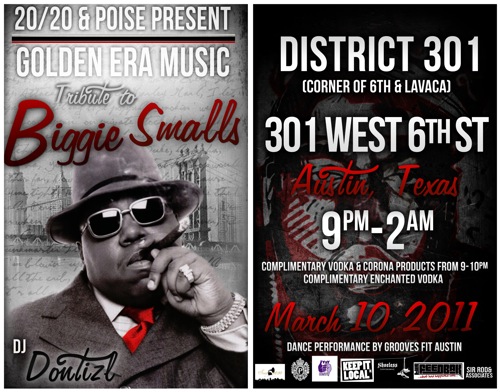 [/fusion_builder_column][/fusion_builder_row][/fusion_builder_container]