After years of pursuing her dance career, which led her to sharing the stage with recording artists such as Nas, Fabolous, Nelly and more, participating in events for P.Diddy, T.I. and more, Chi Chi Randolf opened Dance Austin Studio in the heart of Austin and share her passion for dance with the Austin community. One year later, Dance Austin Studio stands as one of the most successful dance studios in town, offering a wide variety of classes, ranging from Hip Hop, Sexy Stiletto, Zumba, Ballet, Breakdance and more.
This Saturday, January 14th at 8pm…
Let's celebrate the One Year Anniversary of Dance Austin &
Wish Chi Chi a HAPPY BIRTHDAY!
All clients and friends of Dance Austin are welcome to attend. Guaranteed lots of dancing!!!
Music will be provided by DJ Kid Slyce of Table Manners Crew and media coverage will be provided by yours truly.
Be sure to check out Dance Austin Studio for information about classes, promotions, workshops, and more!
Dance Austin Studio is located at 831 Houston St., Suite A  Austin, TX 78756.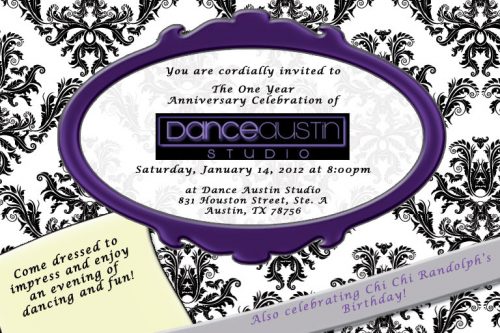 [/fusion_builder_column][/fusion_builder_row][/fusion_builder_container]